I remember my mother coming home from work one night when I was about 13, bursting with excitement about a competition she'd won at a fish shop in the mall near her work. She was thrilled to tell us that tomorrow she would be picking up a whole side of smoked salmon! I had no idea what she was talking about, but my sister seemed pretty impressed (perhaps this was something that came up in "Lace" I thought). I assumed that this side of fish would be huge. At least the length of my arm.
The next day Mum proudly displayed her win. I was disappointed. It was 30cm long, tops. It was pale, It looked oily. It didn't taste great either. It wasn't even smokey.
My mother and sister told me I was a fool and ignored me completely. They got busy making groaning noises as they threw sour cream and blinis around, lost in some Tsarist fantasy.
As the years went by, my contact with this crappy product increased. Canapes, bagels, sushi. It was a no brainer if you needed to make something seem classier than it really was.
It started to nag at me. It wasn't going away. There was clearly something about it that had anchored it firmly in the pantheon of luxury food items. Obviously I hadn't had the good stuff. So I started to make it myself to try and understand it.
Giving it a really long curing time and getting it nice and firm, drying it as well as possible before smoking and using apple wood or beech rather than the ubiquitous manuka to cold smoke it, did the trick. I got it.
Melt in the mouth with a sweet smoky finish. I'm really happy with this recipe.
Don't get me wrong, I'm sure there's always been some good stuff out there. It just wasn't coming my way. Certainly not in a commercial cooking environment or from the supermarket, anyhow.
If anyone out there has some better techniques or different ideas let's get a dialog going and make this recipe even better.
Salmon cure:
125g Castor sugar
180g Brown sugar
175g Sea salt
Combine the ingredients for the salmon cure and then sprinkle an even layer over the bottom of a non reactive container that will snugly hold your salmon. Lay your skin on, bone out fillet of salmon skin side down on this and then cover the flesh with cure. Pile more of it on the thicker parts and less on the tail section. Cover with cling film. In the case of a 1.5-2kg piece of salmon, you're going to cure it for about 1 week. It will take less time the smaller it is. Every couple of days flip it over.
You'll notice colour variation between the thick and thin parts. Don't get bent out of shape. When you take it out of the cure the colour and texture will even out somewhat throughout the fish as the salt and moisture equilibrate.
When it feels nice and firm take it out of the cure and rinse it under cold water.
Dry it thoroughly with tea towels and then place it on a tray, skin side up and put it back in the fridge uncovered for at least 24 hours. I left the last one to dry for three days.
The drier it is the better it takes on the smoke flavour and colour.
Cold smoke for 10 hours if possible. If you can control the temperature then keep it nice and cold. If, like me, you can't control the temperature, just do it at night, outside. In the photos below, the salmon was done inside under a range hood. At the end of the smoke session, place it back in the fridge uncovered for another day. This step is optional but I think it deepens the colour a little and firms the flesh up a tad more.
Eat with blinis, sour cream and caviar. Pretend you're Anastasia.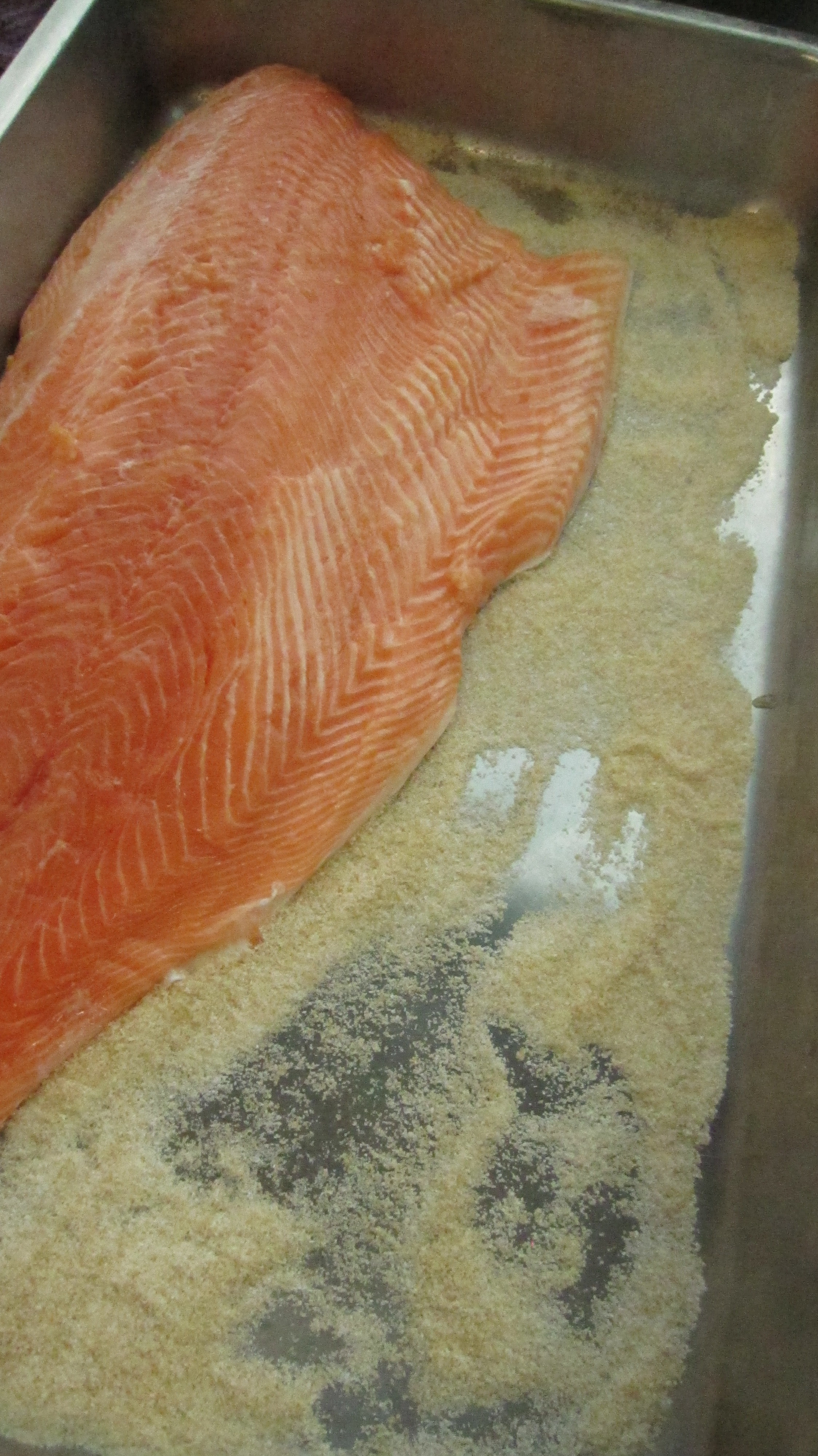 The Hot Smoked Variation
Hot smoking your salmon fillet is a quicker and perhaps easier option. You can cut down the curing time drastically. Overnight will work fine if your pushed for time. Follow the recipe above but simply cut down the curing and drying times. 1-2 days in the cure and dry it overnight in your fridge.
When it comes time to smoke it, you can use any kind of patented hot smoking device or simply do it in a wok with a foil cover. Make sure you have some form of strong smoke extraction or do it outside, it produces a lot of smoke.
The important thing here is not to overcook it. Every smoker is different so you'll have to keep an eye on it till it hits the desired doneness. I like it pretty rare in the centre with a melting texture which takes around 30 minutes in my big chief electric smoker (the salmon is a fair way from the heat source in my set up as you can see in the photos), but you may prefer it cooked all the way through so its easy to flake onto or into a dish.
Hot smoked salmon will not keep nearly as well as cold smoked salmon due to its shorter curing time so eat it all up as fast as you can. It is killer with scrambled eggs which is what we eat on Christmas morning every year.